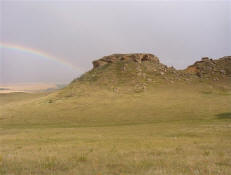 Welcome to Whiskey Butte Lodge LLC. A quiet, beautiful, 2000 acre family owned cattle ranch in southwest North Dakota. We have wide open spaces and plenty of fresh clean air. Our ranch was awarded the Grant County Soil Conservation Achievement Award for the year 1996. We are located 7 mi. NW of Flasher, ND or 50 mi. SW of Bismarck, ND.

We offer a relaxing, peaceful atmosphere in the country. The lodge is open year round and beautifully country decorated with all the cozy comforts of home.

We have great hunting of pheasants, grouse, mourning doves, deer, coyotes and prairie dogs. Your hunting experience will be at your pace, private, non-guided and exclusive to you and your hunting party. Maps are available for local hunting. Hunting dogs welcome with shelter provided. Cleaning facilities and freezer provided. A valid ND hunting license is required and you may only take the limit of game permitted by law. (Go to contact page for ND Game & Fish information.)

Experience a bit of history by spending a day hiking the scenic Whiskey Butte, home of "Dead Man's Cave"; or horseback ride (with your horse) in the beautiful wide open spaces of the countryside. (Feed, water, and pens available). Snowmobiling (with your snowmobile) and sledding are options for winter fun at Whiskey Butte.

We also welcome bird watchers, photographers, stargazers, writers, dog trainers, couples who would like a place to stay to get away and spend some time alone, ladies bring your friends for a slumber party or quiet getaway to quilt, read, or just spend some relaxing time with your girlfriends.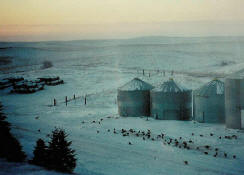 You will have a memorable experience enjoying the sounds of nature. Some of the wildlife you may see and hear include: many kinds of song birds, pheasants, grouse, deer, eagles, hawks, crickets, frogs, and the call of coyotes at night.
We want your stay to be enjoyable and memorable. We are very flexible. Let us know what you want. We will do our best to accommodate your needs.