Hunting/Lodging package: $125.00 per person per day (includes Continental breakfast). Under 17 hunt free if accompanied by adult (lodging $15.00). Does not include licensing fees, equipment, shells etc.

Lodging Only: $55.00 per person per day plus tax. Children under 12 stay free.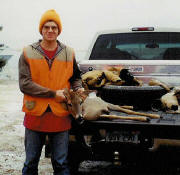 Horseback riding: (With your horse) $15.00 per adult per day
$5.00 per child ages 6 - 13
Children under 6 free
Feed, water and pens available for an additional $6.00 per horse per day.
DEPOSIT: HUNTING/LODGING - A 25% non refundable deposit reserves your hunting/lodging package. Must have 3 weeks notice of cancellation and deposit may be used for future reservation within 1 year.
DEPOSIT: LODGING - First night's stay (except during hunting season when it's 25%)